Works with Google Drive
You can upload files from your PC or Google Drive.
Instruction Manual
We have a simple tutorial guide which explains the features of the software extension and what each button inside the extension does.
Read our tutorial and welcome guide on how to use the extension to the fullest.
Any operating system works
This addons works on all computers - the operating system you use doesn't matter.
Welcome to User Agent Switcher
---
Thank you for installing and using our extension
---
A user agent is a software application that requests and receives documents from web servers, such as a web browser or search engine bot. It can also be called a client.
The original purpose of user agents was to identify different types of browsers so that websites could deliver different versions of their content based on what kind of browser was accessing them — for example, a mobile device might display a simplified version of the site's design while desktop browsers might display more content or functionality if they were capable of doing so.
Developers need to emulate a browser by using a user agent string to ensure their website looks good when its used by all types of users who may be using different browsers/different hardware devices.
Here are a few popular chrome extensions browser extensions you may wish to install as well.
LastPass
LastPass is a password manager that stores all your passwords in one place. It's like having a digital wallet for all your most important information. You can install the extension on your computer or use it on the web to log into websites, store credit cards and other sensitive information, and fill out forms with just a few clicks.
Grammarly
This free keyboard extension corrects spelling mistakes in real time as you type — but it also helps you improve your writing skills by pointing out common grammar mistakes and helping you with writing. The number one benefit of Grammarly is that it provides a second pair of eyes to help you proofread your writing.
Grammarly goes beyond traditional spell checkers by checking the grammar and spelling of your writing. In addition, it provides recommendations for how you can improve your writing.
Another benefit of Grammarly is that it makes writing faster. Grammarly has shortcuts so you can type faster without making mistakes.
Grammarly also helps you take care of repetitive tasks like email or social media posts and comments by suggesting alternatives that are more appropriate and better suited for the context.
Key Features:
Ever wanted to know how your website looks like in different browsers/different operating systems? Try using our software now. Our software allows you to switch your user agent so you can see how the website looks like in other browsers such as Chrome, Edge, Internet Explorer and Firefox. We also support the Android operating system as well as Apple OS.
Once you load the website with different user agents, our software can also help you take screenshots of how the website looks like and allows you to save these screenshots onto your Google Drive. This software is very useful for debugging/ensuring your website looks good in all browsers.
All operations available right in your browser!
Tutorial:
1. Install and open.
- After install the extension You click icon
- To change your User Agent, simply click on the desired useragent, selected UA is marked with border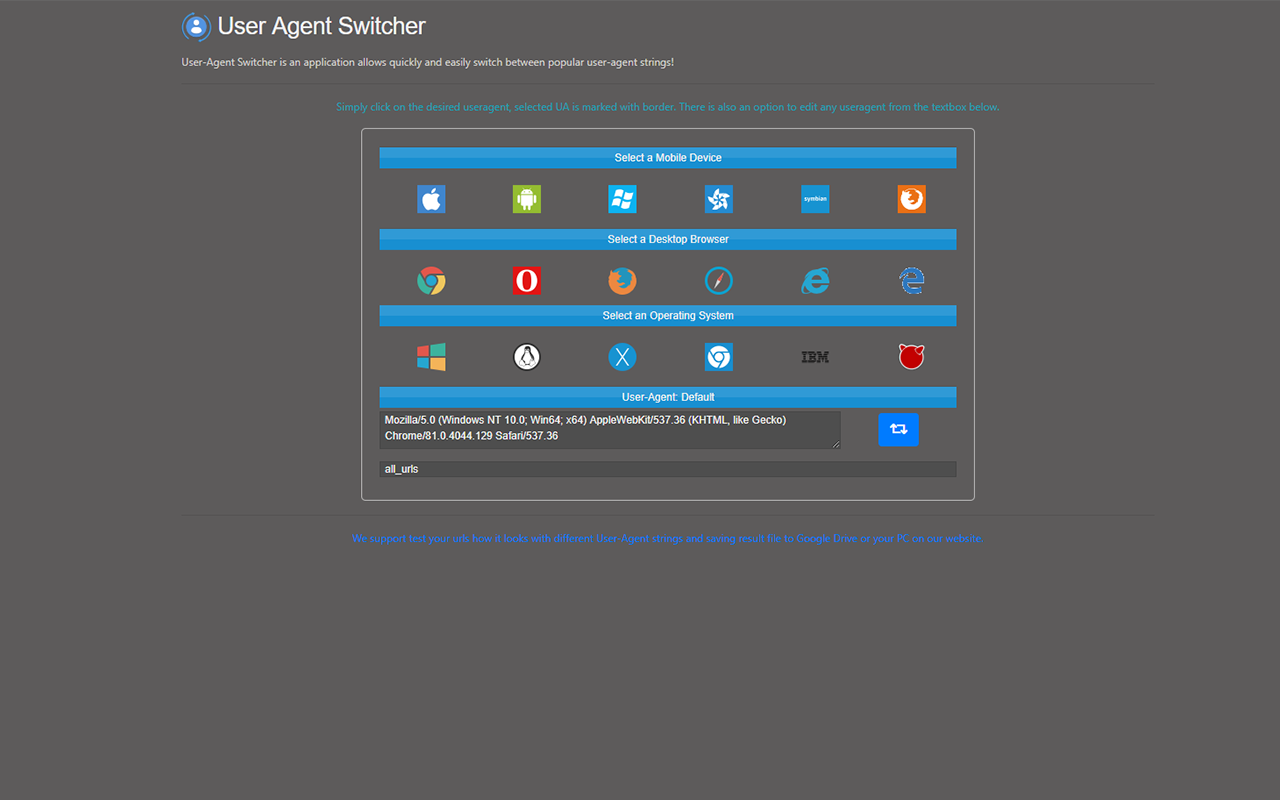 Note:
This software is inspired by Open Source User-Agent Switcher